Latest news
March 2021 96 Church Street replacement windows
We were contacted recently when the much loved, bow fronted shopfront windows, No.96 Church Street were removed.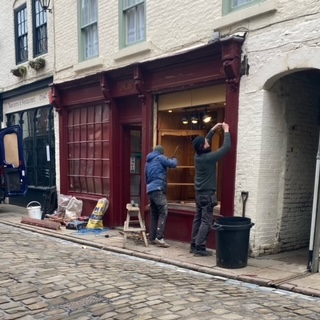 Scarborough Borough Council's Conservation Officer Stephen Gandolfi was quickly on the scene and reported thus... "In this rare instance the new units replacing the existing are absolutely identical as far as the new units are of the same timber, design and proportions as the existing units. In addition to this, the new units were actually made in the same workshop and by the same Whitby Joiner who made the existing ones back in circa 1975. The problem the owners have experienced recently is an increase in the bowing of glazing bars which has led to the panes of glass in the units cracking and becoming insecure. Whilst the owners have undertaken many repairs and inserted new panes they felt it was the right time to replace the units in their entirety in preparation for their reopening in the coming months.
On this occasion (providing they paint the new units in the same colour) Listed Building Consent is not required as the change does not affect the heritage significance of the building. I am confident that the owners are responsible custodians of their building, in fact their commitment to replace the units on an absolute like for like basis should be commended."
18 February 2021 Proposed cycling improvements in Whitby
Have your say and help to develop proposed cycling improvements in Whitby and Harrogate which will make use of Department for Transport funding to deliver new cycling infrastructure. Find out more, and complete the quick and easy survey here https://www.smartsurvey.co.uk/s/NYCCATFFacebook/
The consultation will run from 9 - 23 February 2021.
Whitby Civic Society Annual General Meeting
This will take place on Monday 22 February, 10.30am on Zoom. Everyone is welcome to attend though only members are eligible to vote. Please find a copy of the Annual Report 2020
10 December 2020 Proposals for pedestrianisation Whitby Swing Bridge
You will no doubt be aware of the proposals to pedestrianise Whitby Swing Bridge for a trial period. The proposals are part of an ambitious new project to enhance the economy and tourism in the town. If approved, the Swing Bridge would be closed to traffic between 10.30am and 4pm daily for a trial period beginning April 2021. The trial would also include the pedestrianisation of Grape Lane; New Quay Road, St Ann's Staith, Haggersgate, Pier Road and Khyber Pass would become access only zones during these times.
Whitby Town Deal Board has secured £400,000 of fast-track Government funding to pay for the infrastructure needed to conduct the trial which would be implemented by North Yorkshire County Council highways team. A key element of the scheme would be signage advising of the trial and redirecting traffic approaching the town centre, replacing the temporary signage that is currently used for closures. You can read the detailed proposals here.
The deadline for comments is December 24. There is a link in the document to have your say or you can email Area3.whitby@northyorks.gov.uk or post to North Yorkshire County Council, Whitby Highways Office, Discovery Way, Whitby, YO22 4PZ.
December 12 2020 Ruswarp Church war memorials update
Whitby Civic Sociey has made some suggestions for relocation of the war memorials from Ruswarp church pending its imminent sale. We are working with Whitby Town Council and Ruswarp village hall trustees to determine how these important, historic artefacts may be preserved. We hope the marble tablet can be housed in the village hall and that Whitby Museum will be able to take the bullet pierced cross and brass plaque.
However, due to its size the Rood beam is proving problematic. We suggested the entrance to Whitby hospital but this was ruled out at a recent hospital meeting. If anyone can suggest a public building where this could be placed we would love to hear from you.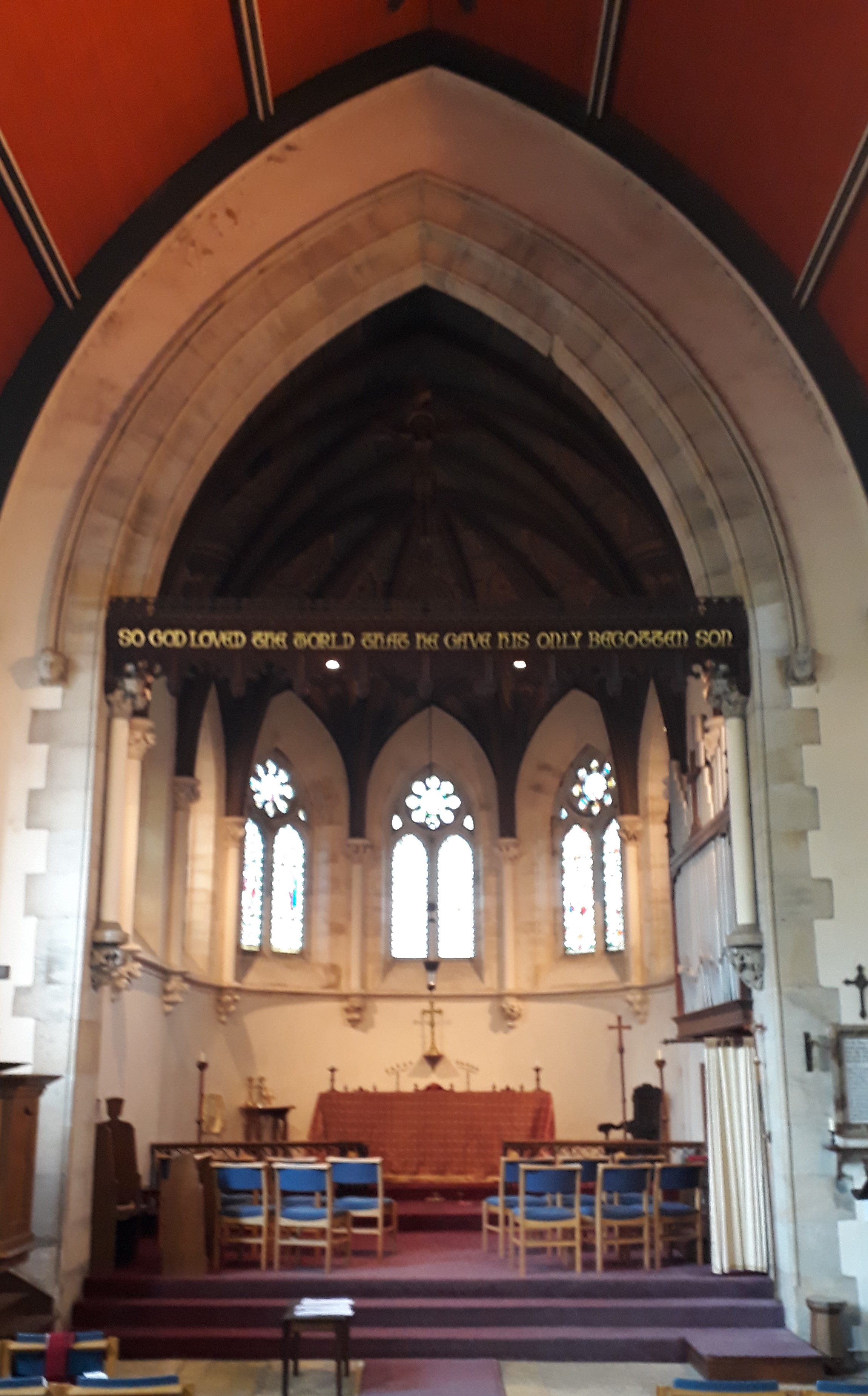 November 28 2020 Scarborough Borough Council Visitor Economy Strategy & Destination Plan
The above was recently out to consultation. It is a critical policy document for the future development of the town. You can read Whitby Civic Society's response here: Visitor Economy Strategy WCS response
November 17 2020 The Museums of Whitby join forces
Please find the press release announcing a new colloaboration between the Captain Cook Memorial Museum, Whitby Museum, Whitby Abbey, Museum of Whitby Jet, RNLI Museum and Pannett Art Gallery: Museums of Whitby
November 16 2020 Battery Parade
Whitby Civic Society has written to the planning authorities following the deterioration of this important historic area of Whitby. Read the letter here: Battery Parade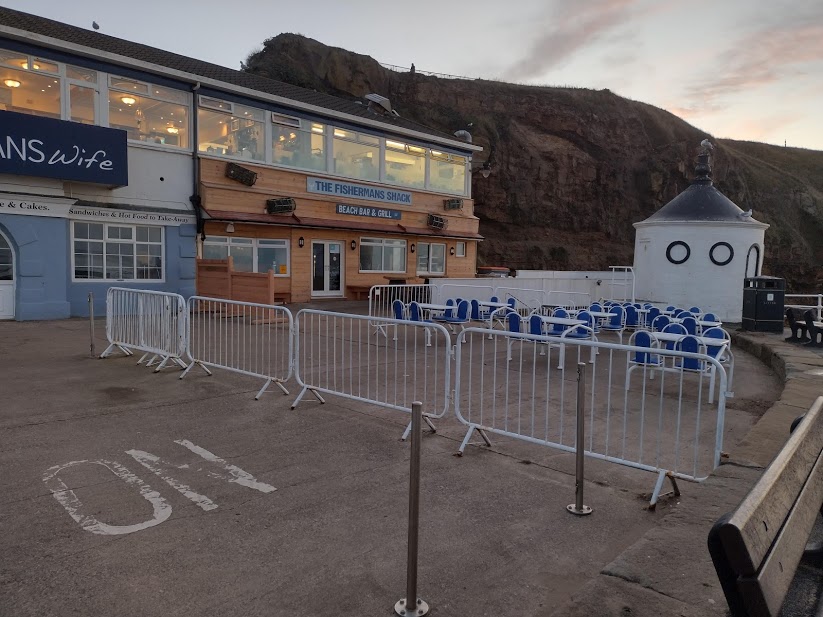 Photo courtesy of Fiona Clewlow
November 16 2020 Scarborough Borough Council Visitor Economy Strategy & Destination Plan
The above is currently out to consultation, it's a large document though critical for the future development of the town so probably worth the time spent. Closing date for comments is 20 November. You can read it and comment here.
5 November 2020 Review of Scarborough Borough Council Local Plan: Whitby Civic Society's response
The Local Plan is an important document for local areas. It provides a framework on how future housing, economic and public health policy and investment decisions are made. Whitby Civic Society's Planning group therefore spent a long time considering the review and potential opportunities and implications for Whitby. Our response can be found here:
Scarborough Borough Council Local Plan response from Whitby Civic Society
27 October 2020 Review of Scarborough Borough Council Local Plan
The current Local Plan is now 3 years old and is currently under review. The consultation on the first stage of the review (the Issues and Options stage) runs until 5pm on 6 November 2020 so there is still time to submit your views. The Issues and Options document, Sustainability Appraisal Scoping Report and the Call for Sites Form (that trips off the tongue) can all be viewed and comments made on the local authority's Consultation Portal or can all be downloaded at https://scarborough-consult.objective.co.uk/kse/event/35440/section/. The Whitby Town Council meeting that discussed the review can be viewed on the Town Council's Facebook page facebook.com/WhitbyTC, you will need to scroll down a bit to find it. The meeting on 29 September heard a presentation on the review which offers a good insight of the issues.
25 October 2020 Planning White Paper, response from Civic Voice
For a number of years, civic societies have made it clear to Civic Voice that we should raise the profile and influence of civic societies within the planning framework to give us a more meaningful, influential voice. In 2019, 72% of civic societies (based on 167 responses) said that civic societies should be given formal status in the planning system. This increased to 82% in 2020 (based on 145 responses). Civic Voice is asking us whether we would support such a proposal.
Whitby Civic Society is minded to support the proposal. A more formal role would mean that the planning authorities must consult us on new applications rather than leaving it to us to spot the relevant ones. The down side is that it could generate a lot of extra work for which we do not currently have the capacity. The up side is that the planning authority would be required to take us more seriously, and given the Government's planned changes to the planning system, it would help to ensure that communities retain at least some voice. We might argue that civic societies are statutory consultees only on applications where they have some expertise for example in the Conservation Area or in respect of listed buildings, although this might introduce an unwanted complexity into proceedings. We would welcome your views.
October 2020 Robert Jenrick, the Housing Minister, announces next steps to put beauty and design at heart of planning system
The Government has published further information about its planning reforms and its intentions to put beauty and design at the heart of the planning system. Read about it here.
Heritage adviser Charles O'Brien said, "I am delighted to have been appointed to advise the Secretary of State on the programme to improve and extend the Local Lists of important buildings and places in England. The best way to protect the heritage we value is to identify what matters most to our communities and share our understanding and appreciation of them."
This supports Whitby Civic Society's current heritage project that is encouraging everyone to highlight buildings which could be added to Whitby's Local Heritage List.
More good news is Permitted development homes to meet space standards. New homes delivered through permitted development rights will have to meet space standards which we understand will include holiday homes.
18-20 September 2020 Heritage Open Days
This should have been the weekend of Heritage Open Days, one of the most popular events in Whitby Civic Society's annual programme. We were severly constrainedl this year, however, please see here the virtual programme that we put together.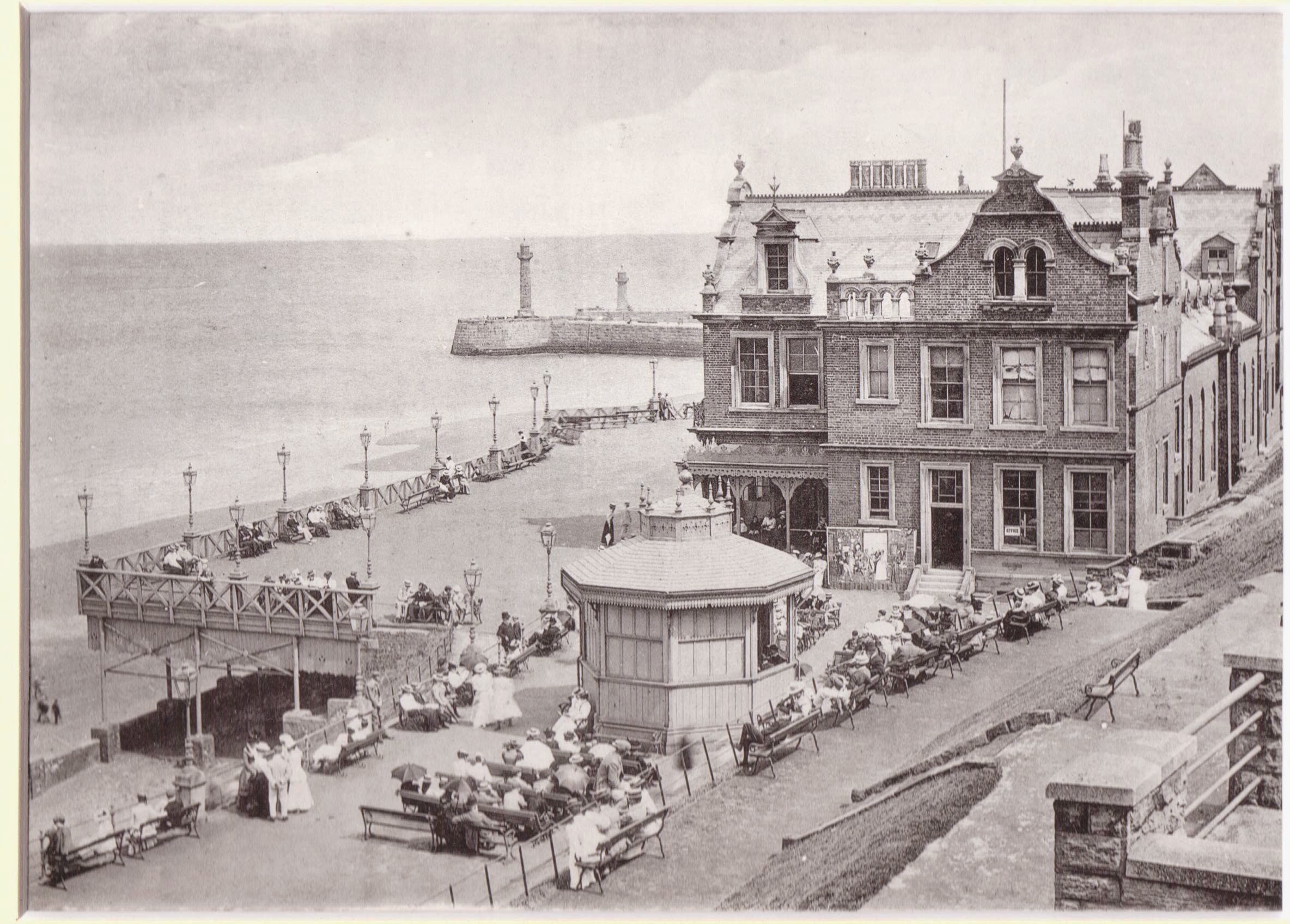 A Frank Meadow Sutcliffe photo of the Saloon and the bandstand, courtesy of Whitby Literary and Philosophical Society
25 July 2020 Green Homes Grant Voucher
From September 2020 homeowners are able to apply for a £5,000 Green Homes Grant voucher to pay for the installation of energy saving home improvements. This is part of a new government £3 billion grant scheme to help the UK meet climate change goals.
Whitby Civic Society's response:
News of the Green Homes Grant is very welcome, particularly in these uncertain times. It will be especially helpful to those on low incomes, and to those living in older properties, who often find the cost of energy savings to be eye-wateringly high.
Whitby has a large number of older properties and income levels that are well below the national average. If your home is in the Conservation Area, or is a listed building, replacing windows with double glazing will involve the property owner in applying for planning consent. In this case, property owners need to think about the design of the new windows. Luckily, there is a wide range of heritage windows on the market, including those with upvc frames designed to mimic wood. And always check the credentials and experience of the builders first! It is to be hoped that property owners embrace the new scheme, and so help to meet the challenges of the climate emergency. At the same time, we need to be sure that any changes do not damage the character and appearance of our historic town.
More informaion can be found here.