Christopher Marwood JP
Christopher Marwood JP (1841 - 1914) St Hilda's Terrace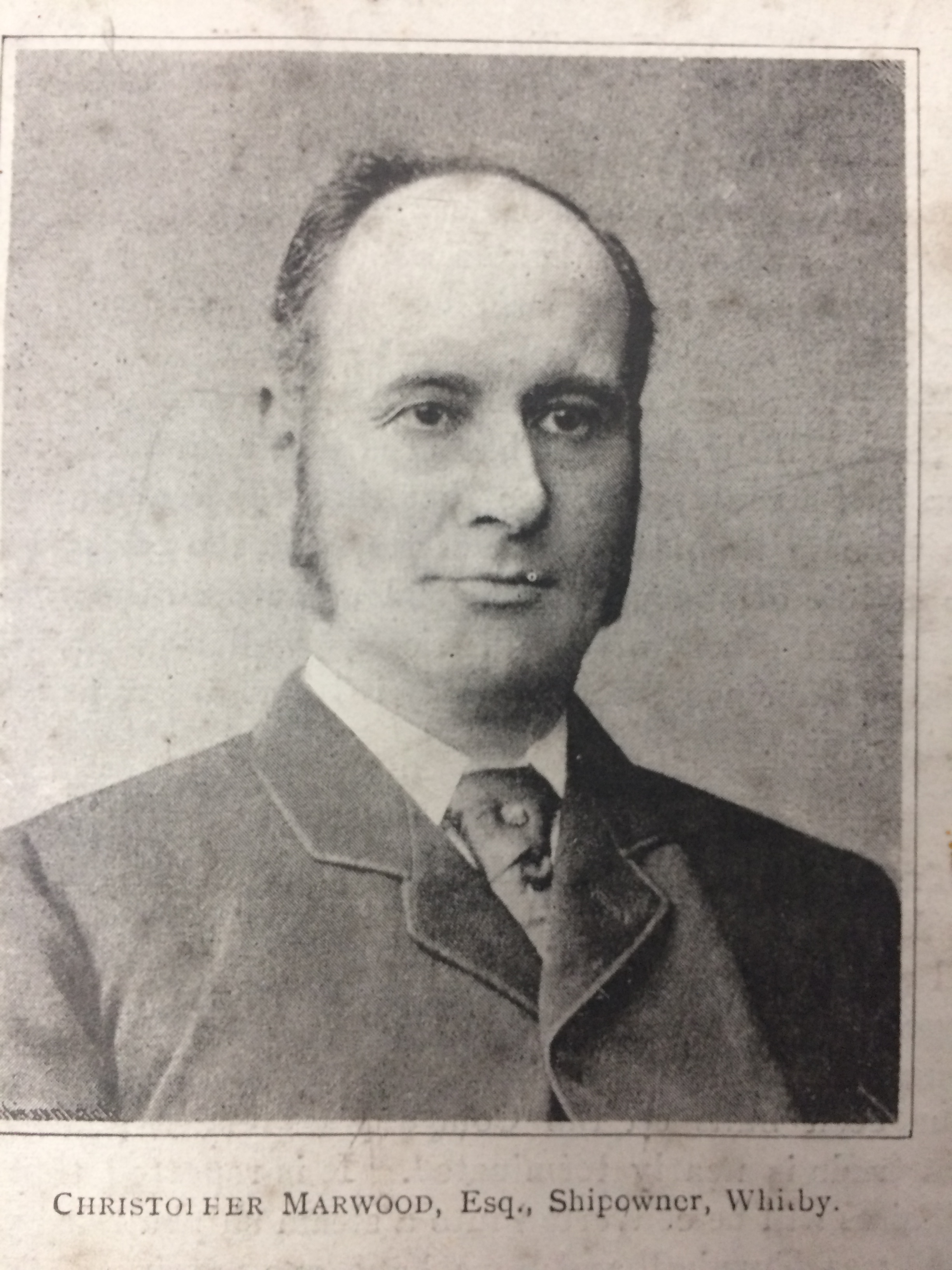 Marwood came from humble farming stock to become a prominent shipowner, philanthropist and leading figure in the religious life of Whitby in the late 19th century. Whilst finding wealth and success he undertook many chritable roles supporting the poor and underprivileged.
Born 4 September 1841 to George and Elizabeth Marwood, Mannor House Farm, Sneaton, the youngest of six children, he was educated at Mr Copper's school, Whitby. He married Sara Jane Stockton at Bempton, Bridlington in 1870 and lived with his family at 3 St Hilda's Terrace from 1872 until his death.They had two children, Christopher who emigrated to New Zealand, and daughter Lucy Eveline who married Dr Fredrick Clarkson and emigrated to Western Austrailia.
His first job was as a junior in John Rickinson's grocery business in Whitby. This later traded as Steward and Rickinson, Shipowners and Underwriters where Marwood's career in ship management began. He also started his own accountancy business where his services were in great demand. He became the auditor for many local businesses including the Piers and Harbour Trustees and Whitby and Robin Hood's Bay Shipping and Graving Docks Company.
In 1861 he began working with his distant relation, Thomas Marwood, an important shipowner in Whitby. He later co-managed a fleet of brigs and schooners with John Rowland to become head of the Rowland & Marwood Shipping Company, at the time one of Whitby's leading maritime companies. In 1884 he took over the management of three steam ships and later beame a manager for the International Line Steamship Company. In 1888, during the early days of steel ship building, Rowland & Marwood built three steel ships and the company become Rowland & Marwood Steamship Company. They were one of the first to adopt the limited liability principle of ownership. Marwood would later become a Director of the UK Protecting & Indemnity Association in London, being a firm believer in the mutual principle of insurance, concilliation and compromise.
Marwood served as Justice of the Peace for Whitby from 1901 and was a leading Lay preacher. He preached 3 times a week for over 30 years and then twice weekly for another 19 years. It is suggested that he preached over 6500 sermons in his lifetime. He also served as church warden at St Mary's church and sat on the local school board for 16 years, the last 10 years as chairman. He was a founder member of the Whitby Temperance Society and is remembered for this by a plaque in the church. He was a donor to the Whitby Chapel, Honourary Secretary to the Whitby Thrift Society for 15 years, and Secretary to both the Church Mission Society and the Mission to Seamen Society for over 40 years.